Each year retailers release a variety of new
Personalized Christmas Ornaments
and bring back best sellers.
So which ornaments are already catching the attention of our staff and holiday shoppers? Well here are our list of the Best New Personalized Ornaments for 2012.
Please note we looked for Christmas ornaments that are new and fresh, we did not include updated snowflake designs or something that reminded us of other ornaments.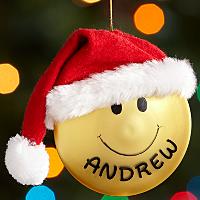 Personalized Glass Smiley Face Ornament
Simple, fun and sure to bring a smile to your face. We loved this personalized Christmas ornament as soon as we saw it and know that Mom, Dad, Grandma and Grandpa might want one for each member of the family.
Overall, we thought the Santa hat just added that special touch that made this our favorite new holiday ornament.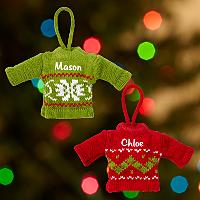 Mini Knit Sweater Ornament
We are seeing more and more knit ornaments this year and some very unique ones include miniature gloves, scarves and sweaters. We saw a few personalized sweater ornaments but these colorful personalized tiny sweaters just had that extra to be our favorite and are so cute.
The down side is that these are so popular that the red has already sold out, as of this morning.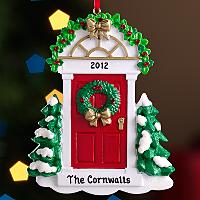 Red Door Christmas Ornament
A bright red door with a holiday wreath welcomes friends and family to your home. This personalized Christmas ornament is a perfect gift for friends, family and neighbors who's door is always open and inviting.
While the idea is simple, this Red Door Ornament is done in a beautiful traditional way, so that it will look great on any tree.
Want to see over a 150 more of our favorite
Christmas ornaments
that include Lenox, Disney, pet and best selling ornaments from the top online retailers. We search the top personalized sites and the best gift sites to bring you the best Christmas ornaments al in one place.
Gift Guy - GiftIdeaCenter.com
Gift Idea Center for
Christmas Gifts
,
Tabletop Christmas Trees
,
Christmas Ornaments
,
Gift Baskets
and 1,000's of Great Gift Ideas. Gift Idea Center may receive compensation if purchases made via linked web sites.