Spring is in the air and their is Spring cleaning, yardwork and lots to do.
And Mother's Day is fast approaching, yes Mother's Day - Its May 10th!
However there is no reason to panic, just plan ahead and get her a great personalized gift it's easy and if you order early you can save with online coupons! That's right you can score a great gift, order it early, relax and save money! Mom would be so proud.
Here are a few Mother's Day gifts that Mom will love from various online retailers.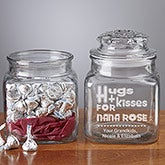 Sweet Treats Candy Jar with Hershey's Kisses
This is a great gift for Mom and Grandma's as you can send a kiss even if you are not there. And if you want add personalized hug coupons too! Just for Mom.
You can personalize with Mom, Nana, Grandma and then add your name at too. It will become a family favorite for years to come.
The Mothers Embrace Print

This print has a touching expression of love that is shared between a Mother and child. This makes a great gift for Mom or Grandma and has been rated highly by buyers. Perfect to show how you feel, even if you have trouble saying it.
Birthstone Heart Necklace
For some Mom's Jewelry is the best gift. Jewelry is a great gift because they can wear it out for a special event and have others admire it or they can wear it at home knowing that it came from the ones that meaning the most.
We thought this beautiful Heart Necklace had the right mix of color and balance to make a great gift, we hope you agree.
Monogrammed Gardening Gloves
For the Mom that likes to dig into things and it often found spending her days in the garden. These gloves will be a special surprise. Not only are they well made and look good, they are monogrammed and are just for her. A special treat indeed.
These are some of our favorite Mother's Day personalized gifts, but we have more
Mother's Day gifts
on our site
Gift Idea Center
and be sure to check our
Coupon Code page
to see if you can save on your Mother's Day Gift.
The Gift Guy
Helping you plan for a successful
Mother's Day
.